Raymond Larry Knight
THE LAST FLIGHT OF THE EAGLE
1) FOREWORD: On the 25th of April, 1945, the Allied Spring offensive in Italy had reached its momentum. After the break-out of the Gothic Line, the Allied troops pursued the retreating German Army which was moving northwards in a desperate attempt to reach the Alps.
A pivotal role was played by the M.A.A.F. in supporting the offensive. Since September, 1944, the Allies had gained absolute air superiority in that theatre and ruled the skies over Italy without any real opposition by the enemy.
The Mediterranean Allied Tactical Air Forces had developed into a powerful force in the two years of hard fighting from the landing in Sicily to the Po valley and in April of 1945, the emphasis of the aerial warfare was dirct support of ground battle while in the previous six months the primary objective of the M.A.T.A.F. had been the interdiction and destruction of enemy rail and road communications.
During these final stages of the war, the Allied Air Forces completed 69959 sorties-2199 per day-dropping some 48300 tons of bombs. But this effort bore a cost; in only April 1945, 402 aircraft were lost, most of them to anti-aircraft fire. (Note 1)
2) THE MISSION: The story of the final flight of 2nd Lt. Raymond Larry Knight, 346th FS / 350th FG, on April 25, 1945, is well known among aviation enthusiasts. He voluntereed for repeated strafing missions on Bergamo airdrome with the aim to destroy the last available JU 88 bombers of the enemy, and his P-47D Thunderbolt was hit by a/a fire.
2nd Lt. Knight refused to bail out and attempted to nurse home his severely damaged plane. However, the atrocius weather conditions he met over the Apennines Mountains got him, and his P-47 crashed in the Giovarello Mount.
3) THE FINDING: Last month, March 2018, the place where 2nd Lt. Knight crashed 72 years ago has been found by a team composed of local researchers from Castelnuovo Garfagnana (Lucca, Tuscany) and Luca Merli of the archaeological group Air Crash Po (www.aircrashpo.com).
Thanks to an old man who witnessed the recovery of the body of the pilot from the wreckage, the team has reached the point, situated in a rough and wooded area and has collected a lot of debris of the plane: parts of the wings, pieces of the main landing gear, of the engine and a lot of '50 shells. As for the witness, the body of 2nd Lt. Knight was carried on shoulders to his own house by his Dad and his Uncle and on April 26, 1945, they handed it to American soldiers of the 92nd US Infantry Division "Buffalo", which had just liberated the area.
This statement is confirmed by a note in the MACR.
A very special thanks to Mr. Keith Vizcarra, Mr. Bob Shifflet and Mrs. Patti Johnson who have provided documents, information and pictures.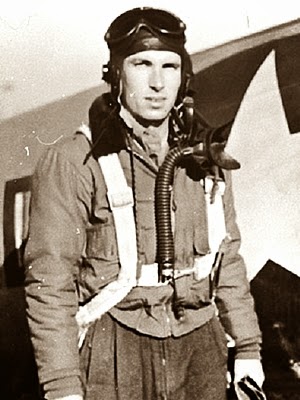 2nd Lt. Knight in a war time picture (courtesy of Mrs. Patti Johnson)

5) The team at the crash-point: Luca Merli, Ezio Pioli, Tommaso Teora and Francesco Adami